" ... delivering internet enabled business solutions."
The Internet Age is an age of opportunity. Never before has it been so easy for small businesses to access the tools to compete with corporations, to bring together talent to deliver value and to project themselves into global markets. Never before has it been so easy for large corporations to turn on a dime, reinvent themselves and to regain the entrepreneurial zest of the start-up.
Voloper Creations Inc. exists to help you seize these opportunities.
At Voloper we do technology, software development and systems integration. But we also create new business ideas, develop technology platforms and devise and execute strategies to exploit internet-age business models.
Right back in 2002 - when most software companies were still getting used to delivering their software on CD rather than floppy diskIf you're much under 30, you may not remember one of these: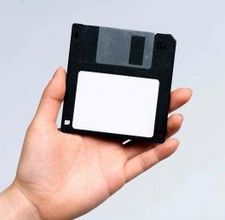 The floppy disk (confusingly, hardly floppy at all) was once the pinnacle of removable storage, powering the "sneakernet" that transferred data along the information hallway from office to office. At a huge 1.44MB capacity, this was once the "bleeding edge". - our OpenSites Web Development Platform was already running "in the cloud", available to developers and designers as "software as a service". And we're still hungry for the leading-edge, developing our own advanced new products and tools and working with clients and partners to understand and exploit the new world of opportunity (and challenge!) in which we're all living.
Voloper & BlueCamroo
Need CRM, Social CRM, Project Management, Support Ticketing, and more as an all-in-one solution? Voloper is an authorized configuration partner for the BlueCamroo Business Productivity Suite.

Learn More